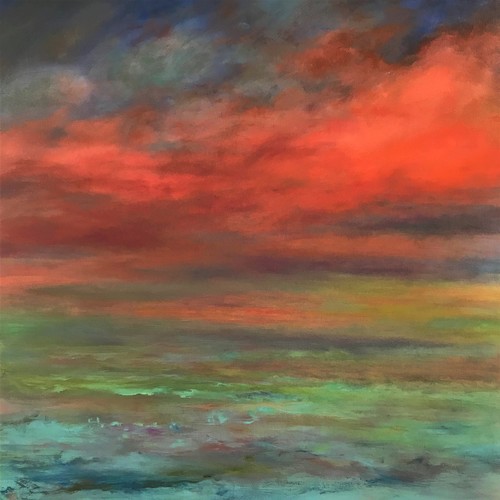 Sky Bliss by Tracy Lambros
Oil, Gold, Bronze Pigments on Panel 2020
STATEMENT
2021 Solo Exhibition at Gallery Blue Door
TRANSCEND
Painting has always been my way to not only interpret my world, but also to transcend it. When in my studio and deeply immersed in the process of painting the chaos of our times falls away. These works, created mostly in 2020, were inspired by the natural surroundings on Hoopers Island, the Blackwater Wildlife Refuge, and the Chesapeake Bay Region - places that provided tranquil sanctuaries throughout a turbulent year. Current events, however, were ever present in my mind and heart as I worked each day. The daily emotional whiplash triggered by seemingly endless horrifying and unconscionable events also informed this body of work, however, did not define it.
Transcendence for me is a peaceful rebellion
.
BIO
Tracy Lambros lives and works in Maryland (Columbia and Hooper's Island). She is known for her luminous oil paintings that evoke land, sea, and sky. Her paintings, photographs, and drawings have been exhibited internationally in solo, juried
, and invitational shows and are widely collected. Her 2021 solo exhibition titled Transcend was her second highly successful solo show at Gallery Blue Door in Baltimore. In 2021 she was awarded a Purchase Prize by Circle Gallery in coordination with Peterson Companies for her painting Luminous Eventide 1 and was selected as "Designers Choice Presenting Artist" to exhibit at MGM Grand Hotel. Her works were accepted into the highly competitive 9 for 19 nine-person exhibition at First Street Gallery in New York City. Recent paintings and photographs were chosen for juried exhibitions at the Washington County Museum of Fine Arts, Circle Gallery, Curve Gallery, Lowe House of Delegates, Annapolis Maritime Art Museum, Maryland Art Place and Ann Marie Sculpture Garden and Art Center. She earned an MFA in Painting and a BFA in Photography from Maryland Institute College of Art (MICA) and began her artistic career in Manhattan where she lived for a decade, including a year on a houseboat on the Hudson River. When not in her studio, she spends time traveling, seeing exhibitions, bike riding, reading, gardening and advocating for causes that make the world a less violent and more equitable place to live.